Whether it's your wardrobe or your office space, fit is everything. Truss was thrilled to work with a fashion company to help them find the right office space for their growing business. Founded in Chicago by a former investment banker, Zach Goldstein, Public Rec is a modern leisurewear brand that produces go-to clothing staples. The company's styles provide a tailored fit with smart design details to make clothing that can make the leap from the sofa to the boardroom.
The concept of 'indoor comfort, outdoor style' has resonated with consumers and as the demand for their clothing continues to grow, so does their team. Public Rec began to outgrow their current office space; a coworking location in Chicago. They discovered the Truss platform through their online search to find a new office space.
Finding a Flexible Office Option
Like many businesses we work with, Public Rec needed a new office location that offered flexibility. First, they wanted a space that was fully built out and move-in ready. For a busy team with a short search timeline, this makes moving into an office space much easier and turnkey. Second, with the rapid rate at which they're growing, Public Rec wanted a short-term lease to ensure they could move and expand without any issues in the near future. Additionally, Public Rec wanted to ensure that there were ample opportunities to bring their brand to life in their new space. They also needed a space that could accommodate photo shoots in house.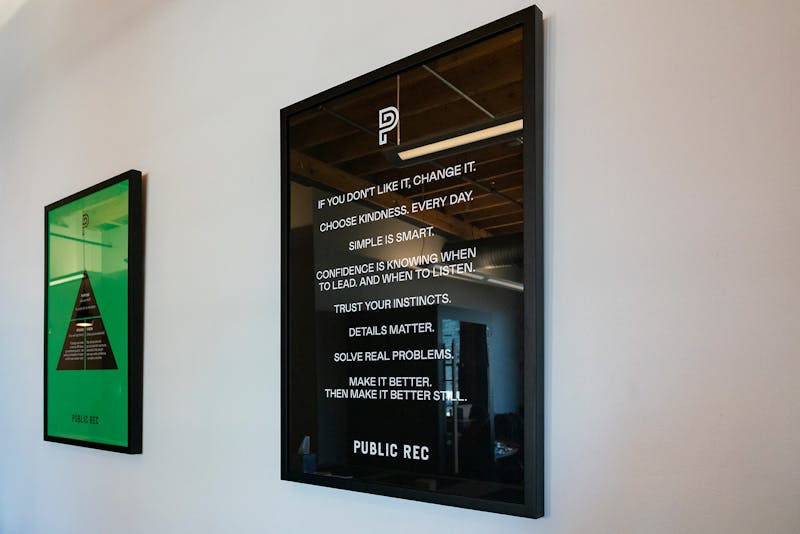 With these parameters in mind, we used Truss to narrow down the search for office space locations in Chicago that met their requirements. Public Rec took advantage of our 3D virtual tours to view spaces remotely, helping the team save valuable time and avoid countless in-person tours that can add weeks to the search process. After narrowing the search down to their top three locations, we scheduled in-person tours to view their favorite spaces.
"We were looking for a very specific type of space, and our broker had our needs in mind every step of the way."
Choosing a Creative Space
The team soon found their perfect space: a creative timber loft with large windows – perfect for photoshoots – overlooking the building's convenient River North location. The space was a "spec space", which is a new space that is already built out and can be occupied immediately. After selecting their top choice, we helped Public Rec negotiate the lease terms to fit their unique needs.
"We were looking for a very specific type of space, and our broker had our needs in mind every step of the way. The online 3D tours saved us time, and we quickly found an amazing space at a great price," said Zach, "I would recommend Truss to anyone looking for office space."
We recently shared why small and scaling businesses need a broker to help them through the leasing process and negotiation is key. With Public Rec's main goal of maintaining flexibility for growth, we helped them negotiate a 2-3 year lease term with a 2 year cancelation option without a penalty. 
We'd love to help your business find the right office space. Start your search with Truss today.