According to BisNow, the coworking sector in the DMV area is rapidly expanding with no signs of slowing down - at the end of last year, coworking accounted for roughly 20% of the overall market's occupancy gain. Choosing the right coworking vs office space for your small business can get overwhelming, but we're here to help. Check out the information below to get the scoop on the DMV's most popular coworking locations and what they have to offer.
WeWork
For entrepreneurs looking to make connections, a coworking space like WeWork is a great fit. With currently open locations in DC proper and NoVa and Bethesda location coming soon, there are plenty of options for those looking to work close to home. Each WeWork location hosts several networking events and other opportunities for members to meet other business owners and entrepreneurs, or to hear from experts about how to grow and scale your startup or business. WeWork's coworking has a strong focus on tech and startup communities. For members of WeWork who are actively growing or scaling their startup, there are great growth opportunities in the DMV area. For example, WeWork offers its "Headquarters by WeWork" option, which caters to small to medium-sized businesses that want private, turnkey large offices. 
WeWork's Features and Amenities
Dedicated or Hot Desk Options
24/7 Building Access
High-Speed WiFi
Phone Booths
Conference Rooms Available on Credits System
Front Desk Services
Mail and Package Handling
Business Printing Services Available
Events and Networking Opportunities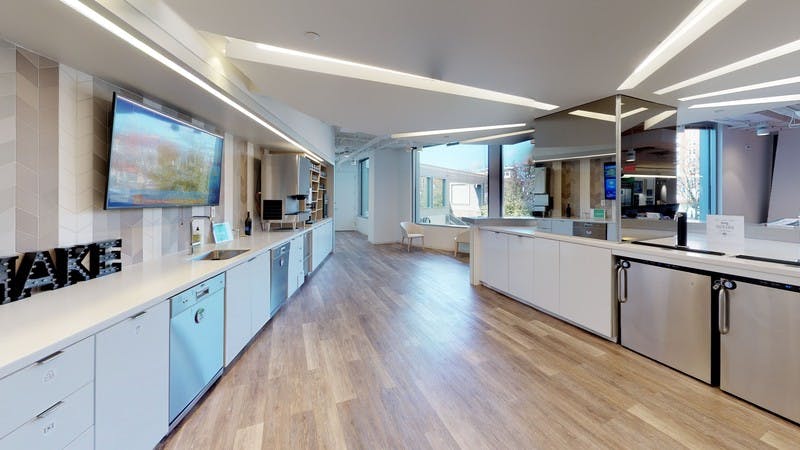 MakeOffices
MakeOffices has move-in ready office space and common coworking areas with a focus on smaller teams from one person (or solopreneurs) to up to 34 people. The space offers all-inclusive amenities and leisure features such as game rooms and beer on tap. MakeOffices hosts networking and skill-focused events to empower small business owners to leverage their community to succeed.
MakeOffices Features and Amenities
24/7 access
Conference Rooms Available
Printing Services Available
Wi-Fi
Unlimited Fresh Fruit, Coffee, and Beer
Flexible Plans and Spaces
Carr Workplaces
Carr Workplaces offers spaces in DC, NoVA and Maryland designed to help teams achieve their goals with a focus on service and hospitality. Thanks to the Carr App, this space is extended into the digital world, with amenities like conference room management, scheduling and networking tools. Carr seeks to integrate life and work into their coworking spaces, with potential for future growth into private 'Wave offices' for teams of 5 to 30. 
Carr's Features and Amenities
Flexible Terms
Carr App
Conference Rooms Available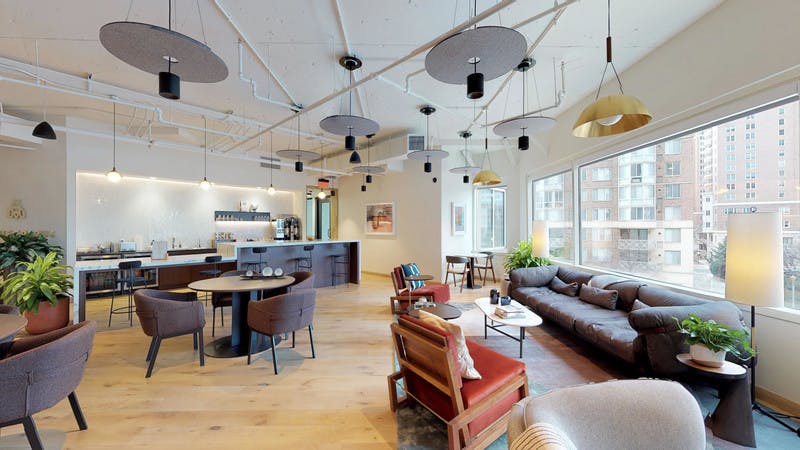 Industrious
Industrious is not industry-specific, but they focus to meet the general business needs of the DC area. Industrious mostly serves commuters in the Virginia area, but also has proper DC and Maryland locations and hosts a variety of businesses, ranging from public sector organizations, tech and Fortune 500 companies.  The workspaces are highly defined and refined. 
Industrious Features and Amenities
Quiet Work Areas
Wellness Rooms Available
Free Coffee, Pastries and Fruit
Regus
Regus is the largest global coworking provider and has you covered for travel around the city or even around the globe. Regus is perfect for lawyers and government workers in the DC area and offers refined and professional office space with a high degree of privacy available. They also offer per day pricing for space and plenty of room for growth of small businesses in their flexible spaces. Regus takes pride in their DC locations' proximity to local amenities, like ballparks and popular restaurants. 
Regus Features and Amenities
All-Inclusive Pricing
Use as Needed
Collaborative Workspace
High-Speed Internet
Telecom Service
Kitchen Area
Meeting Rooms Available by the Hour
Multiple Locations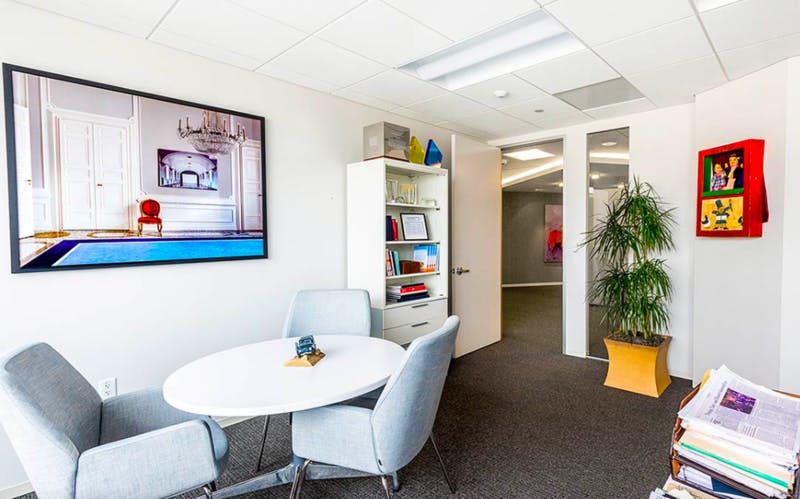 AdvantEdge Workspaces
Forget coworking - try "proworking!" AdvantEdge Workspaces offers admin and reception support, daily rates and a great location downtown. They also have a suburban location in Chevy Chase, DC. Offices are furnished and have printers, copiers and shredders available. Privacy is a focus for their brand - if a company wants to keep to themselves in the coworking environment, they emphasize their right to do so. 
AdvantEdge Workspaces Features and Amenities
24/7 Access
Meeting Rooms Available
High-Speed Internet Access
Free Coffee and Tea
Business Services Available
Printers, Copiers, and Shredders in office
Office Evolution
Office Evolution stresses the importance of connecting through coworking as a convenient and cost-effective option for small business owners. Office Evolution's location in the DMV area is in the heart of dense office parks in the Tysons Corner and Herndon areas, near hotels and the Dulles airport - making it convenient for meeting out of town clients. There are close shopping centers and entertainment offerings as well. Office Evolution offers discounts for small businesses to use conference rooms in their other 60+ locations, nationwide. 
Office Evolution Features and Amenities
24/7 Access
On-site office support
Conference and Meeting Rooms Available
WiFi or Ethernet Internet Access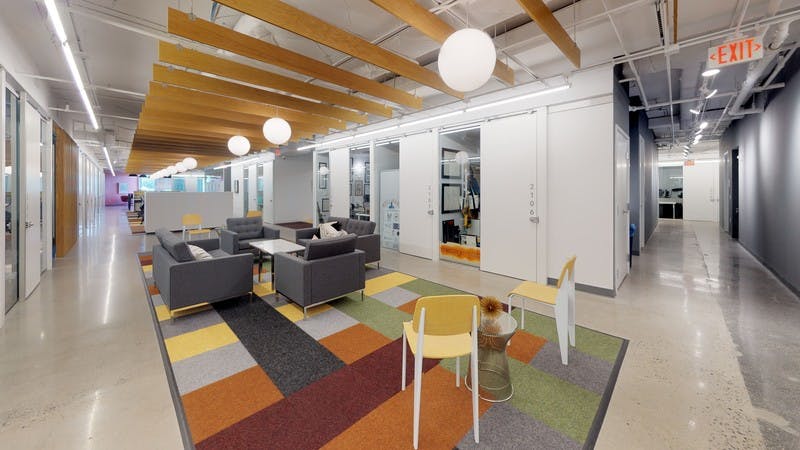 The Yard
The Yard has one location in the heart of the Eastern Market in a brand new building, close to DC's best lifestyle amenities. The Yard also offers rooftop access, fitness centers and an onsite art gallery with ergonomic chairs, emphasizing the building's welcoming, comfortable vibe. The Yard has its own digital network and coworking App. It's perfect for smaller creative and startup businesses of up to seven people. 
The Yard Features and Amenities
24/7 Access
Transparent Pricing
Private Office, Hot Desk, and Dedicated Desks available
Communal Kitchen Space
Meeting Rooms available
Free Coffee and Tea
High-Speed WiFi
Storage Spaces Available
Well Programs
Finding the Best DC, MD or VA Coworking Space for You
Our online marketplace will help you find the right coworking space that caters to your business needs. If you are ready to start the search for your perfect space, Truss can help. Through our platform, you can explore and compare over 80 different coworking locations in the DC, MD and NoVa area, like the ones listed above. 
From there, our brokers work for you to help you find and lease the right space quickly. Our team can even help you get a savings of up to 19% all at no additional cost to you. Sign up today and find your space.
This post was updated on Dec. 5, 2019