Thoughts of LA often spark nothing but visions of sandy beaches and palm trees, but many successful tech startups were created in sunny Los Angeles. The growing desire for flexibility and cost savings has led to a steady rise in LA coworking options, and they have started to dominate as the preferred choice of workspace.
Whether you're a freelancer, contractor, entrepreneur or anything in between, finding the right space to generate the best creative work is critical for success. When you realize the coffee shop around the corner isn't cutting it anymore, it may be time to start looking into coworking spaces in LA.
Coworking in Los Angeles comes in a variety of shapes and sizes, often making it a challenge to navigate. However, with so many options also comes the reality of finding a space that meets all of your specific requirements: location, size, amenities and budget. Let's dive deeper into some of the top coworking spaces in LA to help you make the best decision for your business.
WeWork
WeWork is arguably the most well-known coworking network. They offer numerous options for coworking locations in LA. From Downtown LA to Santa Monica, Pasadena to Long Beach, they have a broad geographic scope. WeWork has unique locations specially tailored to popular industries such as film, fashion, design, and tech. Studios for photoshoots, soundproofed casting suites, and recording studios are just some examples of spaces available to meet specific needs for content creation. Specializing in variety and flexibility, they have options for a single desk up to a coworking space for 200+ people.
There are some commonalities among WeWork's locations in LA, such as high-speed internet, spacious common areas, business-class printers and private phone booths. WeWork also puts a large emphasis on community and regularly hosts networking events to bring people together. They also bring value beyond their spaces by offering a product called "Powered By We," which includes services such as custom office decor, software to manage building operations and even WeWork employees on-site to help with community programs.
WeWork's Features and Amenities
Dedicated or Hot Desk Options
24/7 Building Access
High-Speed WiFi
Phone Booths
Conference Rooms Available on Credits System
Front Desk Services
Mail and Package Handling
Business Printing Services Available
Events and Networking Opportunities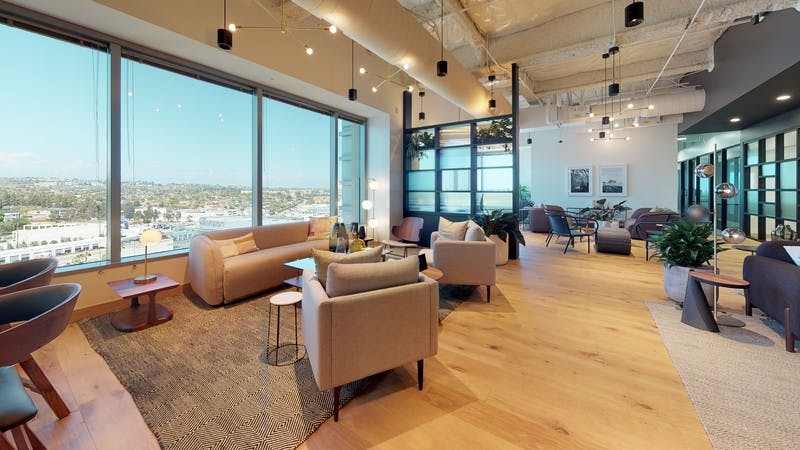 Industrious
Industrious is reinventing how people work by creating professional and productive workspaces. Their coworking locations in LA offer vibrant and collaborative environments for all types of business owners. Industrious offers seven locations in Los Angeles, each with a professional feel and plenty of offerings for large companies, small business owners, passionate creatives and aspiring entrepreneurs.
Industrious spaces provide all the benefits of a traditional office space, such as conference rooms and private offices. They also offer a thoughtful balance of flexible space with a mix of collaboration, meeting and focus areas to ensure all team members can be productive. Some added perks include a dedicated hospitality team and luxurious amenities such as wellness rooms. 
Industrious Features and Amenities
Ultra-fast Internet
Unlimited Free Printing
Conference Rooms, Common Spaces, Phone Rooms
Wellness Rooms
Inspiring Community
Member Events and Parties
Premier Workspaces
From Calabasas to Newport Beach, and everywhere in between, Premier Workspaces has a wide variety of locations in southern California. They have affordable offerings for large and small businesses with executive suites and coworking space. They also have appointed meeting rooms available for booking by the hour, day, or week.
Premier Workspaces Features and Amenities
Workstations / Coworking
Conference, Meeting, Event, & Workshop space
Communal Work Bar
Mail Handling
Professional On-Site Management
Private Phone Booths
Media Lab Equipped with Podcast Studio, Film & Photography space (certain locations)
Textile Studio Equipped with Cutting Table and Industrial Sewing Machines (certain locations)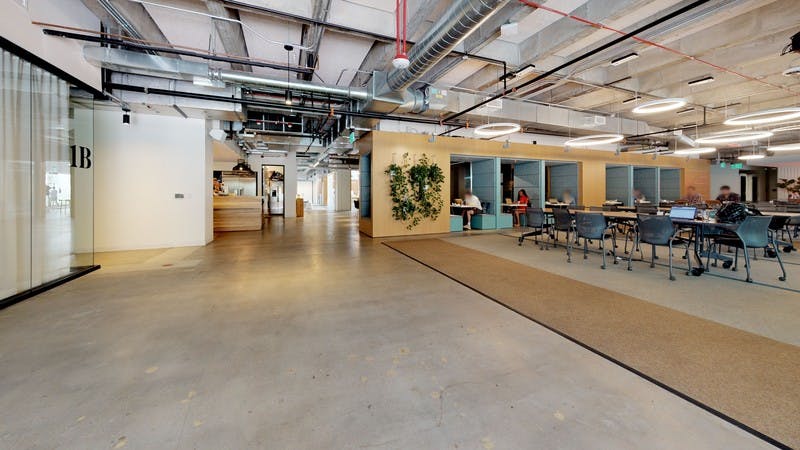 Cross Campus
Cross Campus offers locations in Downtown LA, Santa Monica, Beverly Hills, Old Pasadena and South Bay. With a heavy focus on community and promoting a healthy work-life balance, they pride themselves on having unmatched amenities, such as meditation rooms, premium beverages on tap and outdoor workspaces. 
With locations within walking distance to public transit, as well as on-site parking, Cross Campus aims to make commuting simple and stress-free. They also offer a variety of events to engage the community with the opportunity to build meaningful relationships.  
Cross Campus Features and Amenities
Meditation Room
Health-ade Kombucha on Tap
Conference Rooms
Dog Friendly
Showers
Close to Public Transit
On-site Parking
Private Office Space
Outdoor Working Space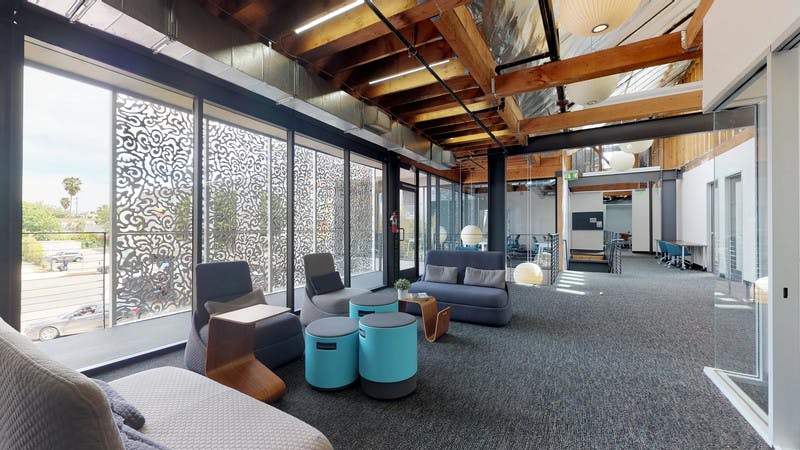 BLANKSPACES
BLANKSPACES brings together entrepreneurs and freelancers in their five locations in Southern California. Each location features WorkCafé open seating, dedicated desks, private offices, virtual office mail services, meeting rooms and event spaces. All of these configurations are available by the hour, day, week, month or year - offering great flexibility for a variety of coworking needs. 
In addition to offering coworking space, BLANKSPACES offers memberships that come with a number of benefit services, such as Trinet (health insurance & HR resources), Salaryo (coworking financing) and Tispr (productivity tool and collaboration tool for freelancers). They also host many monthly events for members, bringing the community together to learn and network. 
BLANKSPACES Features and Amenities
Open Lounge Seating
Private Offices
Meeting Rooms
Close to Shopping and Restaurants
24/7 Access for Members
Community Events
Finding the Best LA Coworking Space for You
Los Angeles offers a wide variety of great coworking options that cater to many needs. If you're ready to ditch the coffeehouse grind and find your perfect coworking space, Truss can help. Through our online marketplace, you can explore and compare over 120 coworking locations in LA from providers like the ones listed above. Plus, it's free to search and compare on our platform. From there, our brokers work for you to help you find and lease space quickly. Our team can even help you save an average of 19%, all at no additional cost to you. Sign up today and find your next office space or coworking space.
This post was updated on December 5, 2019