Each time we at Truss connect with a client, we take it as an opportunity to build a long-lasting relationship. We understand that as businesses grow and evolve, so too shall their office space. And with this in mind, we know that our services may be useful to a company on more than one occasion. This is exactly the case for our client, M1 Finance, who once again needed our assistance to find a new office space that would accommodate their growing team.
M1 Finance is a Chicago-based Fintech company that builds intelligent solutions to manage your personal finances. Their technology combines investing, borrowing, and cash management in one easy-to-use platform.
Truss has had the pleasure of previously working with the company when we found a modern loft space for them in the River North neighborhood that, at the time, fit all of their needs. However, as the team expanded, the acoustics of the exposed brick, open air space became an issue. What's more, the company would be hiring approximately 20 new employees in the coming year. It was time to find a new space to accommodate this exciting growth.
Setting Requirements for the Office Space Search
M1 Finance was very specific about their needs and wants. They required a fully-furnished office space in a building with good sound insulation. They also wanted a modern design with private offices and meeting rooms. M1 Finance also wanted a space that would be able to accommodate a short-term lease of three years.  
With these requirements in mind, we began our search using the Truss platform. This initial search helped us narrow down a list of potential office locations that might work for their growing team. Brian Barnes, founder and CEO of M1 Finance, was able to review these options remotely with the help of our detailed listing views and virtual tours. This helps business owners save time because they only need to physically tour the spaces that are closest to their criteria. 
"I love the combination of the technology platform and the expert in-person help."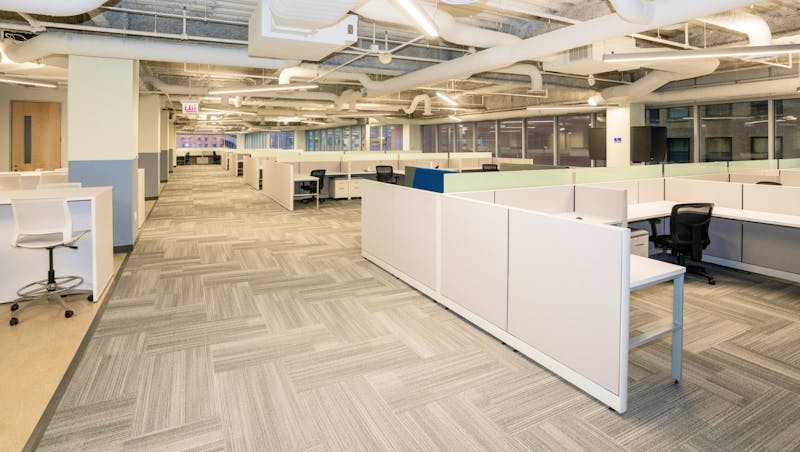 "I love the combination of the technology platform and the expert in-person help. I was able to survey the spaces I thought would work for my company from the comfort of my place whenever it was convenient. This saved me countless trips to spaces I knew wouldn't work," said Barnes.
Selecting a Move-In Ready Office Space
With a shortlist of favorited office spaces, we then began our in-person tours of the locations. In the end, we found a fully-furnished office space for them located in the heart of The Loop. Although their current loft space lease doesn't end until April 2020, they had an immediate demand for more space. With this need top of mind during lease negotiations, we were able to arrange early access to the office, beginning in January 2020. With the foresight of more space potentially being needed as M1 Finance continues to grow, we were also able to negotiate a Right of First Refusal (ROFR) lease term that gives them the option to expand on the same floor. This strategy helped to ensure the new space will continue to work for them as their team expands.
"We're loyal to the team at Truss because they continue to deliver," said Barnes, "The new office space is significantly more professional and goes hand in hand with the maturation of our company. I'm looking forward to being in a space that reflects our growth as a company." Maintaining positive customer relationships is of the utmost importance for Truss brokers. Our success ultimately hinges on the success of our clients. It's with this in mind that we stay in touch, continue to prioritize our client's business goals and always strive to learn more about how their current space is working, or not working, to meet their overall business needs. These personal touches, and our expert commercial real estate knowledge, help us provide the best service for our clients. 
We'd love to help your business find the right office space. Start your search today with Truss.