When you start your search for office space, the neighborhood may feel like one of the most important requirements for your team. In fact, when you sign up for Truss, one of our first questions is where you would like to locate. For some teams, leasing in a specific neighborhood is a necessity, whether you need to be close to clients, or a specific landmark. 
As Truss' VP of Data Science, I took a look at our customer search data from January 1, 2020 to June 31, 2020 to see if location preferences upfront held firm throughout the search and leasing process. What I've found is that while many customers may come into their search with specific preferences, they often end up finding spaces in neighborhoods they hadn't considered before. 
Take three of our leasing locations, for example. 
Washington, D.C. Office Searches vs. Favorites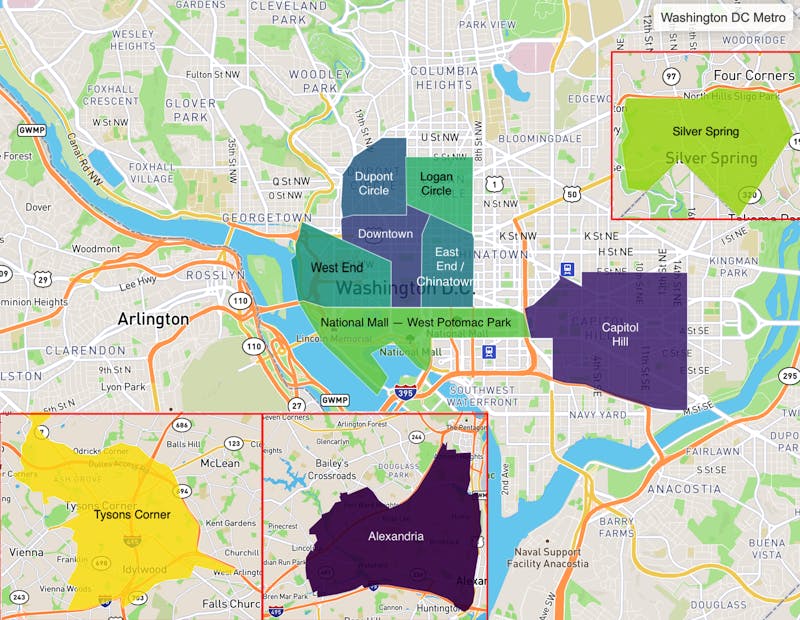 Take a look at the top neighborhoods where our customers dropped pins at the start of their searches. Downtown DC is the top neighborhood in terms of searches, followed by Dupont Circle and East End.  Since D.C. has a lot of federal land, including the National Mall, users sometimes place pins near national landmarks or transit hubs.  While very little office product exists on the Mall, just blocks to the east sits Capitol Hill, a hotspot for government organizations, lobbying firms, and trade associations searching for office space.  Another popular area is Silver Spring, one of the closest Maryland cities relative to DC that features some of the lowest office prices in the area. Silver Spring attracts businesses looking for affordable space close to the city, as do some Virginia suburbs such as Tysons Corner or Alexandria.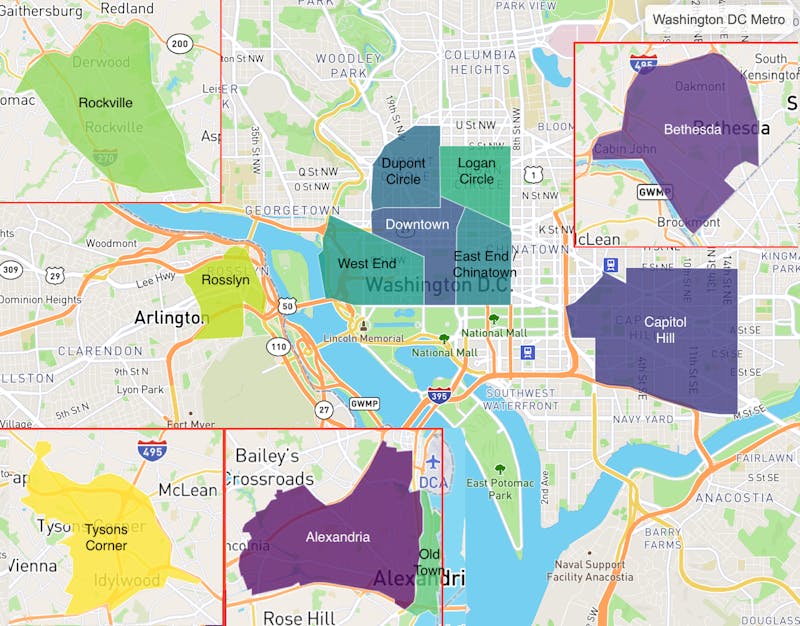 Now let's take a look at where people favorited spaces. You'll notice that this map looks relatively similar but there are a couple of changes. There isn't much office space right by the monuments, so tenants favorited spaces a bit to the north. Or they may have realized their dream space was more affordable in Rockville than in Silver Spring. Rosslyn is an attractive startup and tech-hotspot with affordable office space and easy transit access. 
Los Angeles Office Searches vs. Favorites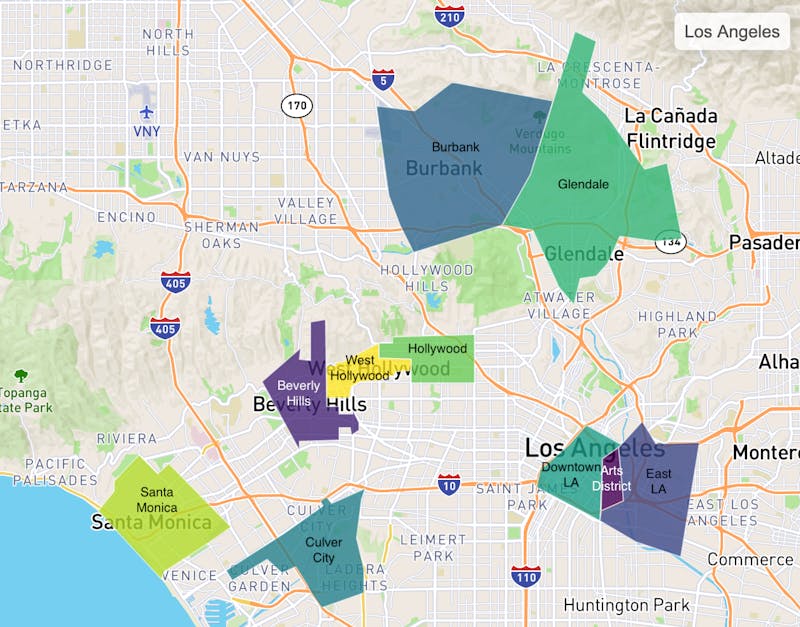 In Los Angeles, location matters arguably more than in other cities thanks to the sprawling nature of the metro area along with a hefty amount of traffic. Let's look at these neighborhoods in clusters. Starting from the west side, you'll notice that customers dropped pins in Santa Monica and Culver City. These are hot spots for technology companies especially. Then we have the Beverly Hills-West Hollywood-Hollywood cluster, a central and popular area. Those on the east side are looking in Burbank and Glendale, part of the Tri-Cities and home to many production studios. Finally, we have customers looking in downtown, in the Arts District, even into the East LA area, all of which are popular neighborhoods for office space.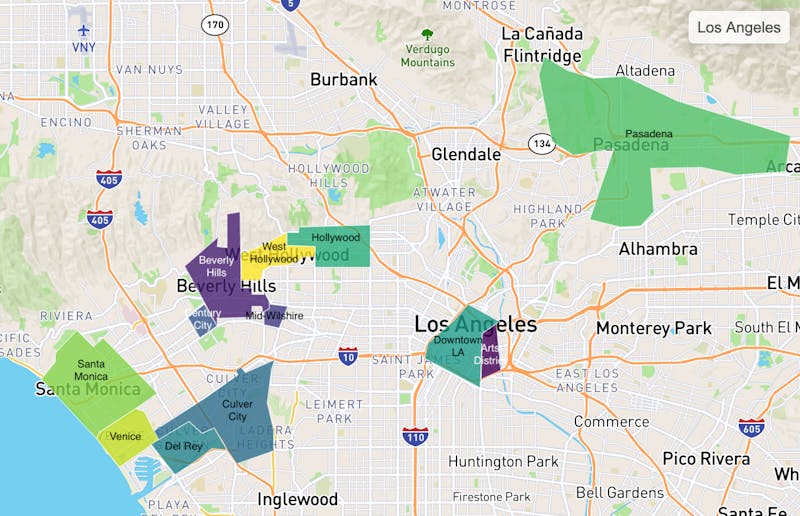 As we examine where people are favoriting spaces, you'll notice there are slight shifts within these clusters. Customers are also favoriting spaces in Venice and Del Rey, which are part of the Silicon Beach area, a hub for tech companies. In addition to Beverly Hills, West Hollywood and Hollywood, customers are favoriting spaces in Century City, an office space hotspot, and Mid-Wilshire, a lower cost option, compared with Beverly Hills and Century City. Customers are sometimes abandoning Glendale and Burbank completely, opting for office space in Pasadena, the third of the Tri-Cities, likely based on building styles. Finally, customers are still favoriting spaces downtown and in the Arts District, but not in East LA, which is growing, but not quite there yet in terms of office offerings.
Chicago Office Searches vs. Favorites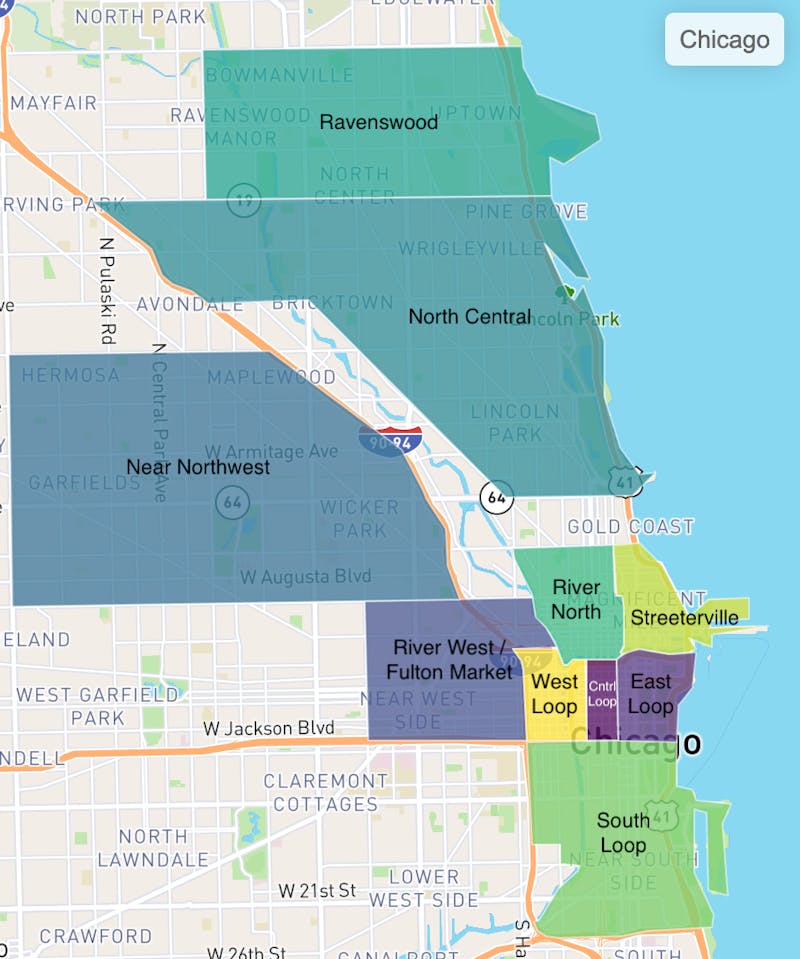 Our Chicago customers cast a wide net in their searches, from the usual Loop and Loop-adjacent areas, all the way up to Ravenswood. While some of our customers are looking for a downtown location, others seek the environments of more residential neighborhoods, especially as neighborhoods further from downtown are easily accessible to downtown by CTA and offer lower prices.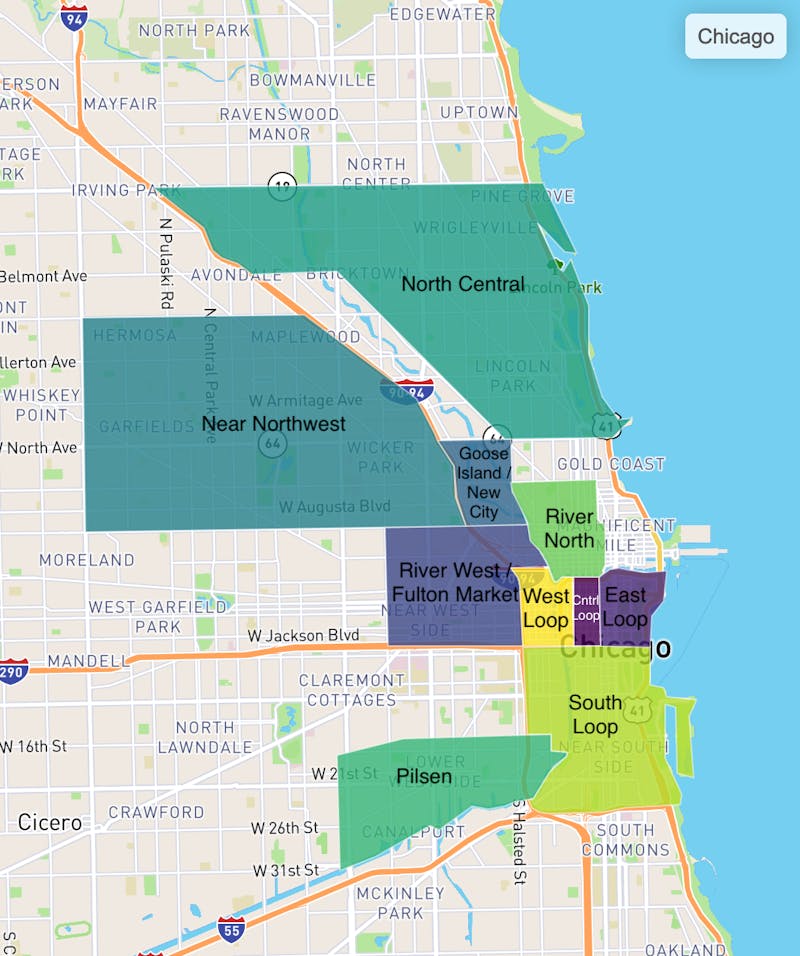 Since our Chicago customers already conduct broad searches, the areas in which they favorite spaces don't vary by much. The two exceptions are the Goose Island/New City and Pilsen neighborhoods. Both of these areas are experiencing an influx of affordable, newly constructed offices, and are destinations in their own right. In addition, Ravenswood does not appear on this map because while there is a demand for office space in Ravenswood, availability is actually limited.
What This Truss Customer Data Means
For every one of these cities, we see examples of Truss customers finding new office locations they hadn't previously considered. While having locations in mind is a great way to start your search, you might be missing out on the perfect space if you keep to these as rigid requirements. It's one of the reasons why working with a broker is so important. Most brokers, including all Truss brokers, are local experts who can help you find hidden gems for your team. So when you're starting your search, come prepared and willing to explore. You may find that your perfect space is even better than you expected. Click here to start your office search with Truss.