Congratulations! You've made it to the point in your business where you need your first office - or a bigger office. If you've gotten to this point, you're probably ready to jump right into your search. But leasing a new office can be confusing. There's a lot of commercial real estate jargon and less obvious ways to get a better deal. That's where your broker comes into play.
Let's Start with the Basics
Leasing an office or coworking space is a business transaction that occurs between two parties: the property and the tenant (that's you).
Properties are typically represented by a listing broker, who handles tours and the leasing process on behalf of the property ownership. They represent the best interests of the property.
As the name implies, tenant rep brokers represent you, the tenant. The service of tenant representation is free. Our job is to represent your best interests and help you negotiate the best deal.
Truss is a tenant rep brokerage, which means all of our brokers, including myself, only represent tenants.
More About Tenant Rep Brokers
We're here to do all the heavy lifting for you: arrange tours, handle the negotiations with the property, review the lease terms, ensure that the lease is reviewed by an attorney and manage the lease signing. We're also subject matter experts. All tenant-rep brokers take 30-90 hours of course requirements and a state exam to become commercial real estate brokers. We read leases and talk to property owners every day, and are immersed in the local real estate community.
We know the little things we can do to help you save time and money. In fact, I recently helped an LA company sign a lease in 7 days. A property isn't going to move to lease at that speed if you come without a broker. And, if I can brag a little more about Truss, we save an average of 19% on each lease. Some examples include a free month of rent, a lower security deposit, or negotiating the load factor costs.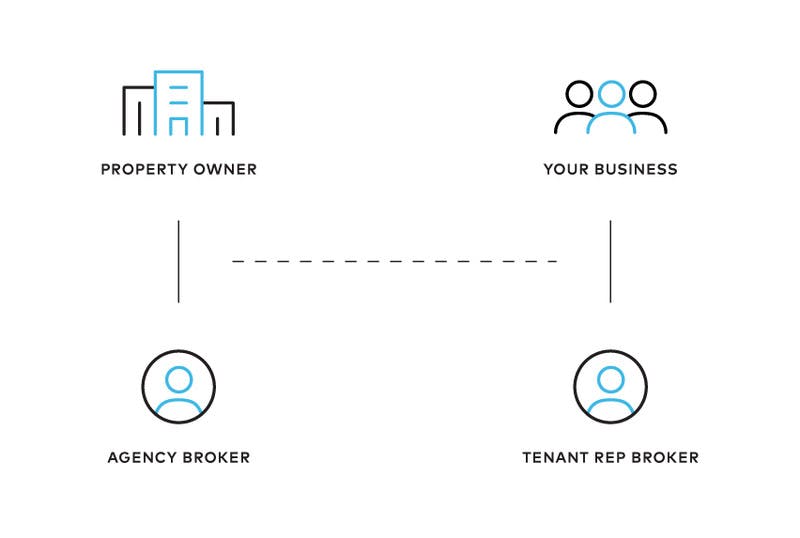 So, What's the Catch?
There is no catch when it comes to using a tenant rep broker. We get paid a commission by the property for filling the space once you've moved in, but we work in your favor to get you the best deal. Why do we work in your favor? Aside from it being the job title, we know business moves fast - and before you know it you'll need another office space or more room in coworking. We want to be there when you do.
Where Do I Find a Tenant Rep Broker?
Truss automatically assigns you a broker when you finish signing up. If you're not in any of our areas, most commercial real estate companies have tenant-rep brokers with locations across the United States.
You Don't Need to Lease Space Alone
Look, you've got a business to build. You need someone who can work with you every step of the leasing process to get you the best deal quickly. You need a broker. At Truss, we show you personalized space listings featuring traditional office and coworking spaces with all the details you need, and our tenant rep brokers help you get the best deal quickly. Check out Truss here.